Tremosine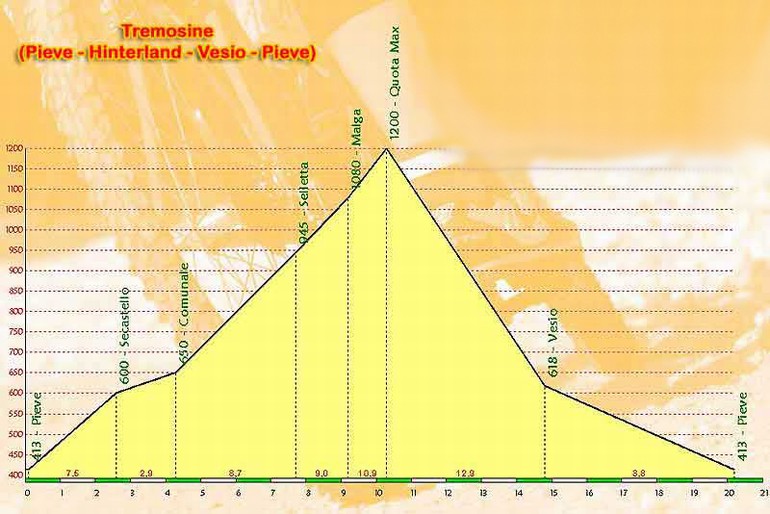 Zone: Tremosine
Departure: Pieve square
Length: 20.20 km
Maximum altitude: 1,200 m
Difference in altitude: 813 m
Time: 2 - 3 hours
Beauty: ****
Difficulty: average difficulty


Campione, Tremosine, Nevese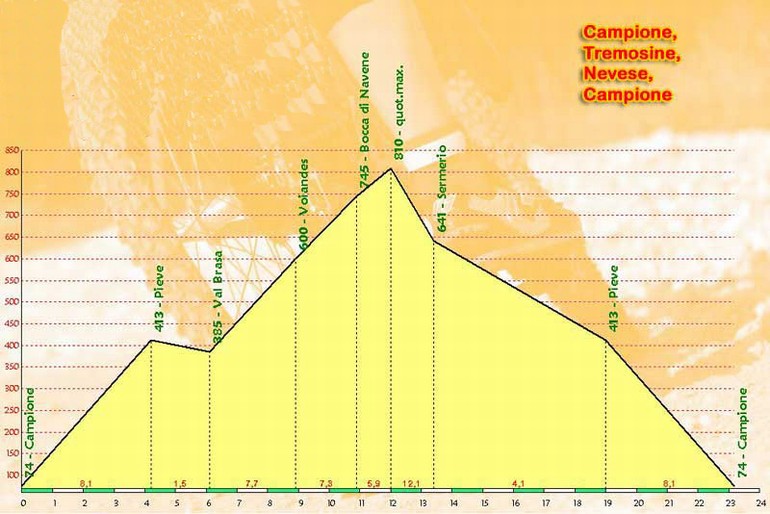 Zone: Tremosine
Departure: Campione, near the soccer field
Length: 23.20 km
Maximum altitude: 810 m
Difference in altitude: 744 m
Time: 3 hr 30 min - 4 hr 30 min
Beauty (1-5*): ****
Difficulty: average difficulty


Salo' - San Bartolomeo
Zone: Salò - Roè Volciano
Departure: Salò, along the Gardesana road, from the parking lot near the junction for S.Michele
Length: 14.00 km
Maximum altitude: 647 m
Difference in altitude: 557 m
Time: 1 hr 30 min. - 2 hr 30 min.
Beauty: ***
Difficulty: average difficulty



Vesio, Tremalzo-Rifugio Garda, Passo Nota
Zone: Mount Tremalzo
Departure: Parking lot in the center of Vesio
Length: 39.80 km
Difference in altitude: 1,313 m
Maximum altitude: 1,863 m
Time: 6 - 7 hrs
Difficulty: very difficult
Beauty (1-5*): *****


The hinterland of Toscolano and Gargnano
Departure and arrival point: The bridge on the Gardesana State Road between Maderno and Toscolano
How to get there: From Brescia along the Gardesana state road.
Lenght: 24 km
Route: Difficult, for mountain bikes; the Valle of paper Millo may be taken alone as a brief but interesting and simple excursion for normal bicycles.
To see: Maderno: the Romanesque church of Sant'Andrea, now dedicated to S. Giovanni Battista, dating from the XII century, and the new parish church of Sant'Andrea; Toscolano: the parish church of Santi Pietro e Paolo featuring 22 large canvases of Celesti, the sanctuary of the Madonna del Benaco; Gargnano: the cloister of the Franciscan monastery with annexed church dating back to the end of the 14th century, the medieval church of San Giacomo and the magnificent Bettoni Villa at Bogliaco.