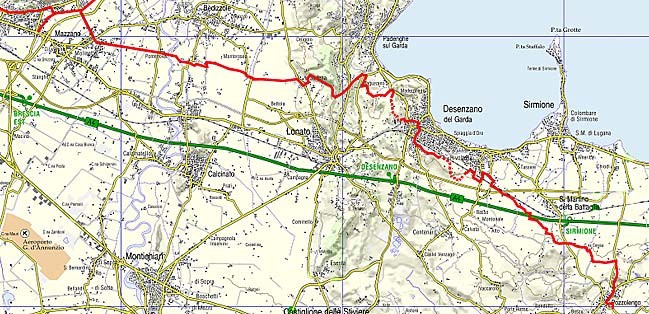 I° stretch Mazzano - Desenzano
Lenght: Km 19
Time: 1 hr 30 min
Kind of bike: City bike, street, hybrid, Mtb
Difficulty: easy

Taken the path at Virle Treponti in a few kilometers (km) we meet with that which comes from Brescia. It continues in the direction of Salò until you cross the road connecting Mazzano to Molinetto. Going towards the county of Pontenove in Bedizzole, we take what for centuries was a major Roman roads, the route Emila Gallica, which connected Burdigola (Bordeaux) with Constantinople. In the hamlet of Pontenove in Bedizzole, cross the beautiful stone bridge with the back of donkey, with the central chapel built in the eighteenth century.